Your Default
We all have what I call a Default Communication Style. It's the most natural and intuitive way in which we present. It's normal and expected. We don't have to think much about it.
What's Your Counter-Intuitive?
When you want to ratchet it up a notch (or two), the quickest way to sound more dynamic is to move away from your default and weave in something new. Something that is counter-intuitive to you.
Change It Up
Naturally a slow speaker? Pick up the pace for a few key sentences. Like to use long, run-on phrases? Get short and to-the-point. Period. Soft-spoken? Emphasize and vocally punch one word in each sentence. Variety is what makes a presentation pop.
Synonyms Are Your Best Friends
I often work with clients who have go-to words they repeatedly use. This is not conscious, by the way; it's part of their default. We have fun with this by creating lists of synonyms for them to choose from. Tapping into this list immediately makes language both more specific and more descriptive.
Two Ideas to Get You Started
Thing and important are definitely two words that get a lot of play. You can't go wrong using them, but really, why would you want to? There's a whole world of possibility out there.
You can get a big return on a small investment of time by creating your own Juicy Word Lists of new, fresh word choices for your well-worn ones. More fun to say and, for your audiences, much more fun to listen to.
Don't Try to Be All Things to All People
The meaning behind the word thing will vary depending on your field and your topic area. For starters, you might consider using: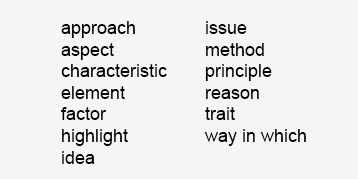 Just How Important Is It?
How much fun is this! Mix and match with one word from Column A and one word from Column B. And add your own new ones to the list: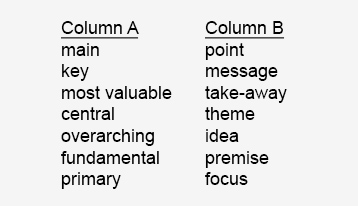 Keep It Fresh
Even if you have to present the same weekly update or quarterly report, you don't need to fall into a rut. There's no reason why you can't freshen up your delivery style and your word choice.
It's springtime out there. Take a tip from the new blossoms budding and try something new!
Be the happy recipient of more great tips and techniques, along with intelligent musings on the state of communications, by signing up for Diane Ripstein's regular NewsNotes right here.